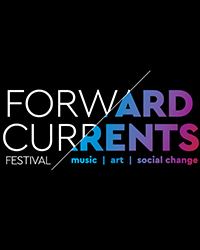 Forward Currents Festival 3 Day Pass
When
Occurs on Friday March 2 2018
Approximate running time: 2 hours
Venue
Performance Notes
×
Forward Currents Festival All Access Pass
All Access Pass to Forward Currents performances on March 2nd, 3rd and 4th, 2018 .
The goal of the RSO's inaugural Forward Currents Festival is to inspire essential conversation about Truth and Reconciliation in our community.
Friday, March 2, 2018 Artist Talk- 6:15 pm
Eagles Ascent 7:00 pm Marion Newman, mezzo-soprano Jeremy Dutcher, singer/pianist Regina Symphony Chamber Players An eclectic program that delves into identity and the unique experiences of different cultural groups. Indigenous artists, mezzo-soprano Marion Newmand, and Toroto-based composer Jeremy Dutcher bare Canada's divided history in this concert. Post-Concert Reception- 8:30 pm
Saturday, March 3, 2018 Artist Talk- 6:15 pm
There is My People Sleeping 7:00 pm Eekwol, hip hop artist new Dance Horizons Gordon Gerrard, piano Regina Symphony Chamber Players Auditory meets visual in a program that coincides with the Mackenzie Art Gallery's opening of Mixing Stars and Sand: The Art of Sarain Stump. Lindsay"Eekwol" Knight presents a profound mix of musical textures with and without the RSCP, and the RSO teams up with iconic creators from New Dance Horizons to present an origina work dedicated to Stump titled, "There is My People Sleeping after one of Stump's profound books.
Sunday, March 4, 2018
The Long and Winding Road 5:00 pm Drew Haydn Taylor, author playwright Drew Hayden Taylor presents a lecture that will explore the journey of a small boy from a reserve in central Ontario, through the multi-faceted wonders of oral storytelling, and how he ended up spreading the gospel of native literature around the world. this Talk will take the Indigenous perspective from the campfire to the stage, page and screen.
Ancestral Voices Gordon Gerrard, conductor Marion Newman, soprano Andrea Menard, singer/songwriter Regina Symphony Orchestra The journey towards reconciliation starts with understanding the truth. the final evening of the Forward Currents Festival presents a mix of pieces that challenges us to re-examinge what we have understood through a new lens. Powerhouse Saskatchewan born singer/songwriter Andrea Menard closes the festival with a presentation of her original work exploring her unique perspective as a Metis jazz singer.